So, you've seen the signs of estrogen dominance and consulted with your health care provider. Now it's been confirmed that what you feared is true! Estrogen is running amok throughout your body, and you must reign it in before the hormone takes over your life. That's right, you can (and really must!) take control of estrogen dominance.
Let's get started!
Balanced hormones contribute to optimal health.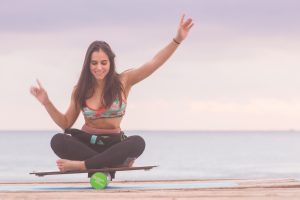 But Wait, What Is Estrogen Dominance Again?
As mentioned in the last article of this series, estrogen is a hormone or chemical messenger that sends signals to our various body parts and organs. More specifically, estrogen communicates with our reproductive and nervous systems, as well as the thyroid, hypothalamus, and adrenal glands. With too much estrogen in our bodies, these systems can get the wrong messages and stop working as they should. Estrogen dominance can cause chaos.
Estrogen dominance may present in different ways. First, it could present with higher-than-normal levels of estrogen in the blood.  It's also possible that estrogen dominance can result from other hormones, such as progesterone, falling to lower-than-normal levels.
Either way, the signs and symptoms of estrogen dominance include:
PMS
irregular or abnormal periods
mood swings and irritability
sore or tender breasts
headaches
infertility
low sex drive
anxiety
depression
brain fog
fatigue
insomnia
weight gain
difficulty losing weight
fluid retention
allergies
dry skin
hair loss
How to Treat Estrogen Dominance
First and foremost, consult with your health care provider to discuss any symptoms of estrogen dominance. It's important to get their input on treating those symptoms and to rule out any other conditions that you might have.
But there are also many self-care measures that work wonders for getting control over estrogen dominance.
The nutrients we consume impact our body's ability to eliminate estrogen. Steps you can take to support your body's capacity for processing estrogen include:
Drinking lots of H2O. It's crucial to drink plenty of water so that your body can eliminate estrogen and other toxins from its system.
Eating Clean. This involves consuming an organic, whole foods diet with plenty of fiber. Whole foods are minimally processed and natural. It's especially important to nosh on cruciferous vegetables, such as cabbage, kale, broccoli, and brussels sprouts because these foods boost the liver's detoxification powers. Eating highly processed foods with refined carbs and added sugars can raise estrogen levels.
A balanced, whole-food diet supports hormone health.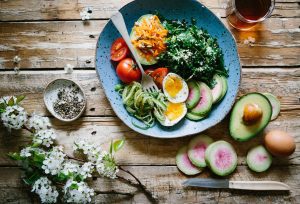 Taking probiotics. Estrogen dominance has been linked to poor gut health. Probiotics help balance the gut and metabolize hormones, including estrogen. You can take probiotic supplements or consume probiotic-rich goods such as sauerkraut, kefir, apple cider vinegar, and kombucha.
Incorporating healthy fats into the diet. Food such as avocado, walnuts, olive oil, and flaxseed provide unsaturated fats that help balance hormones.
Limiting alcohol. The liver works overtime to rid the body of alcohol, so it doesn't have much energy left for eliminating estrogen and other toxins.
Reducing caffeine. Excessive caffeine intake negatively affects the adrenal glands, which also play a role in estrogen regulation.
Getting enough vitamin D3, B6, and magnesium. Vitamin D3 helps balance estrogen levels. B6 increases the production of progesterone, which then neutralizes excess estrogen. And magnesium influences the enzymes that regulate hormone balance.
You can also embrace lifestyle habits that will help your body heal from estrogen dominance, such as:
Exercising regularly. When you get that booty moving, you also get your liver working to detox your body of excess hormones like estrogen and other toxins. Exercise also supports blood sugar regulation and weight management, which also play a role in ridding the body of excess estrogen.
Managing stress through meditation, deep breathing, or time spent in nature. This is a tricky one to explain. But basically, our adrenal glands produce hormones such as cortisol that help the body deal with stress. These glands can get burnt out if we are always stressed out. When that happens, the adrenal glands steal progesterone from the body so that they can keep working. Low progesterone levels can lead to high estrogen levels and estrogen dominance.
Stress management techniques, like meditation, work wonders for hormone balance.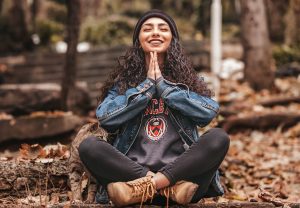 Sleeping more. Our bodies regulate hormones as we sleep. And if we don't sleep enough to give our bodies the time it needs to balance hormones, we create optimal conditions for estrogen dominance.
Decreasing exposure to environmental toxins. Xenoestrogens are endocrine disruptors that mimic natural estrogen and mess with the way that natural estrogen functions within our bodies. And unfortunately, these xenoestrogens are everywhere. Our household cleaning products, fragrances, plastic containers, and makeup might contain xenoestrogens. You can find more information about which products contain xenoestrogens in the Environmental Working Group's Skin Deep® guide.
Conclusion
So, there you have it – eleven steps that you can take to get a handle on your estrogen levels so that they don't have such a stronghold over you. Because estrogen dominance causes a range of symptoms that can really beat you down, lower your quality of life, and mess with your overall health.