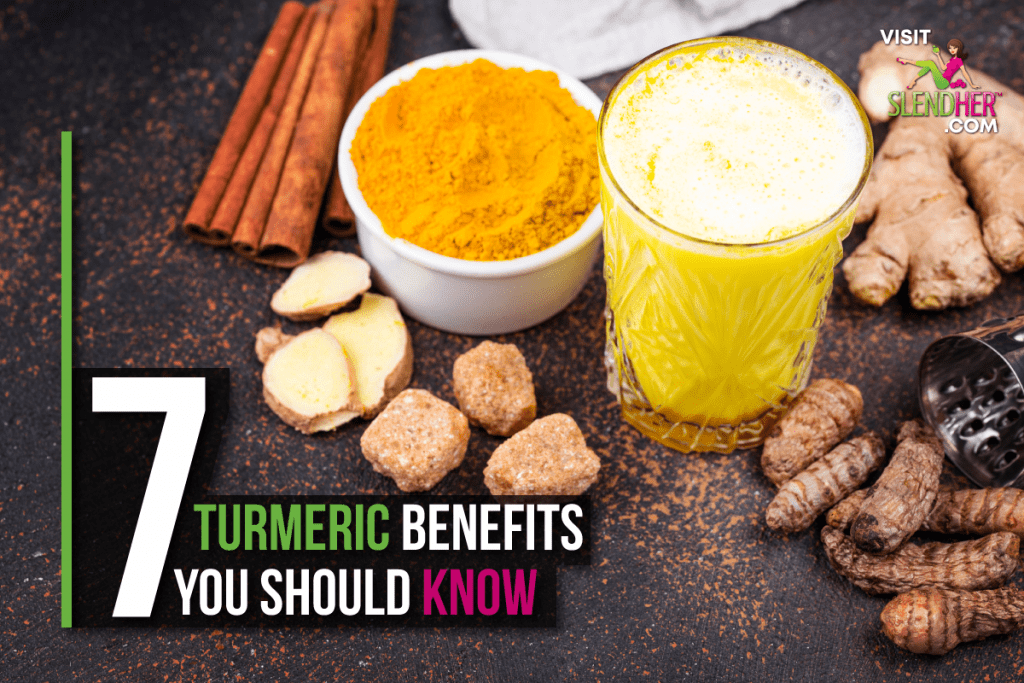 While the bright coloured spice, turmeric, has seen a spike in popularity over recent years with the infamous golden milk taking centre stage, this spice has been around for thousands of years. Turmeric has an incredible amount of benefits which is why Chinese and Ayurvedic medicine have used it for a very long time to heal digestive issues, fight inflammation, and help maintain healthy blood, skin and circulation.
Aside from benefiting the body, turmeric is a common staple in curries and sauces. But what makes turmeric so special? Let's take a look into this incredible root.
What Does Turmeric Do to The Body?
Due to the incredible nutrients found in turmeric, it can have a positive impact on the health of the body. If you only think of curcumin when you think of turmeric, there is so much more to learn about this bright coloured spice. Here are a few nutrients in turmeric:
Add this golden powder to your day!

Manganese – Important for bone production, skin integrity and blood sugar control. Aside from turmeric, it is found in foods such as oats, brown rice, spinach and pineapple.

Iron – Essential for energy production and oxygen transport. It is also found in other spices such as cumin, chili peppers and clove.
Vitamin B6 – This nutrient is important for red blood cells, metabolism of carbohydrates, liver detoxification, and the brain and nervous system.
Fibre – One of the most commonly known benefits of fibre is gut health. Fibre helps optimal food passage through the digestive tract and can be found in so many plants alongside the turmeric root, such as beans, leafy greens, berries, green peas, broccoli, cabbage and bananas.
Copper – Key for helping antioxidant protection, energy support, cholesterol balance, and bone and tissue integrity. Found in other spices and herbs such as thyme, cumin, parsley, black pepper and basil.
What are the Benefits of Turmeric?
This popular root has a vast amount of research, trend following, and deep-rooted history behind it to create fascinating appeal for its touted benefits. Here are 7 turmeric benefits you should know:
1 – Powerful Yellow Compound
One of the reasons turmeric is incredible for the body is due to the strong yellow colour. The yellow pigments are known as curcuminoids which have great health-promoting effects such as:
Curcuma longa components may exhibit benefic effects in the treatment of degenerative diseases as OA (osteoarthritis). This plant belongs to the family Zingiberaceae and it is popularly known as turmeric or saffron. – PubMed
Turmeric root is also packed with essential oils known as turmerones.  Together, curcuminoids and turmerones pack a powerful punch of compounds.
2 – Anti-Inflammatory
Inflammation is important for the body in situations such as breaking a bone or badly bruising the body as it helps to repair the damage. However, when inflammation lasts too long, is causing health issues, or results in chronic problems, then the body needs an extra helping hand. Curcumin is so effective as an anti-inflammatory that it is just as powerful as anti-inflammatory drugs without the side effects as shown here and here.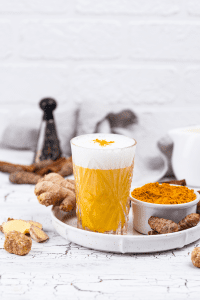 3 – Menstrual Cramping
Due to its powerful effect at reducing inflammation and pain receptors, it is very beneficial at helping reduce menstrual cramping. Enjoy a soothing golden milk or warming curry at that time of the month to reduce cramp pain.
4 – Potent Polyphenols
Polyphenols, also known as antioxidants, are very important in helping the body from daily stressors. We may know that certain super berries and green vegetables are packed with powerful antioxidants.  Turmeric is, too!
5 – Digestive System
Turmeric is widely known for its positive impact on gut health and one of the reasons Ayurvedic and Chinese medicine have used it for centuries is due to the powerful impact on digestion. It helps to balance levels of bacteria which ultimately has a positive benefit on creating a healthy digestive tract.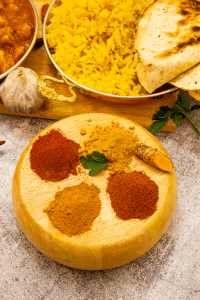 6 – Healthy Blood Flow
Turmeric is known to help with blood flow in all the major organs such as the heart and liver. It can help efficient blood flow to the heart and circulation which helps the arteries to be clear. It can also help with liver detoxification.   This is due to increased blood flow through the liver, creating a healthy liver from damaged liver cells.
7 – Makes Food Taste Good
Turmeric adds a rich depth to curries, noodles, stews and stir-fried vegetables. The famous golden milk is a delicious delight and worth trying to enjoy the golden magic of turmeric. Add a teaspoon of turmeric to plant-based milk with a dash of black paper and a little sugar or maple syrup.
What is your favourite way to enjoy turmeric?