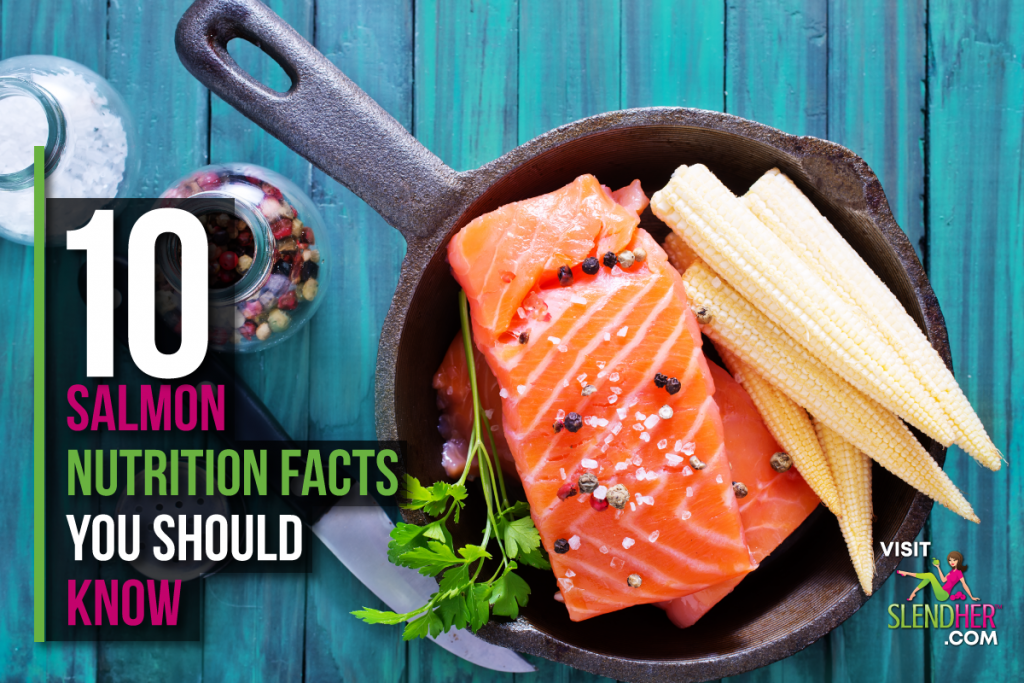 Salmon is a popular food choice for healthy eaters everywhere. It's no secret that it contains many nutrients necessary for good health. This nutritional powerhouse is also extremely versatile and can star in many different recipes. Even people who don't usually enjoy eating fish praise salmon's rich flavor. Read on to learn more about the many salmon health benefits!
Basic Salmon Nutrition Facts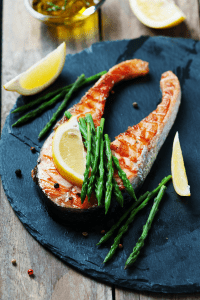 According to the USDA, cooked farmed salmon provides the following:
Serving size: 3 ounces 
Calories: 175 
Fat: 10.5 grams
Protein: 17 grams
Carbohydrates: 0 grams
Salmon Health Benefits
This list contains the many nutrients, vitamins, and minerals found in salmon. All of these are essential for a healthy body.
Protein – Salmon is an excellent source of lean protein. High-quality lean protein is necessary for healthy muscle growth and maintenance. Consuming protein at meals can also help you feel full longer. A three-ounce serving of salmon contains 17 grams of muscle-building protein.
Omega 3 Fatty Acids – If you've heard one thing about salmon benefits, it's probably that salmon is rich in omega 3 fatty acids. The reason this is one of the most widely discussed benefits is because omega 3 fatty acids are crucial components to good heart and brain health. We can only get these essential fatty acids through food in our diet because our bodies cannot produce them on their own.
Vitamin B12 – Salmon is one of the richest sources of vitamin B12. Your body needs vitamin B12 to produce red blood cells and DNA. A deficiency of B12 can lead to anemia and fatigue.
Vitamin D – Your body needs vitamin D to build immunity and fight off infection. It also aids in the absorption of calcium and the growth of cells. Salmon is one of only a few foods that naturally contain vitamin D.
Calcium – Canned salmon is a great source of calcium. The vitamin D in salmon helps your body absorb calcium so you get the benefit of both. Calcium is known for building strong bones, but it also helps your heart and muscles function correctly.
Selenium – Salmon is a good source of selenium. Selenium supports your immune system and prevents infection. Selenium is also essential for a healthy functioning thyroid. Sufficient amounts of selenium can also lower your risk of diabetes and cardiovascular disease.
Niacin – Niacin, or vitamin B3, is another vitamin your body needs to properly function. Niacin helps repair your DNA and can help regulate your cholesterol levels. Its other main function is to convert the food you eat into usable energy. One important thing to know about niacin is that it is water-soluble. This means your body excretes rather than stores any excess. You need to get niacin in your diet every day to prevent deficiency. 
Potassium – This mineral helps you control your blood pressure and lowers your risk of stroke. The potassium found in salmon can also aid in waste removal and fluid level regulation, helping banish bloating and discomfort. Salmon is an excellent source of potassium and contains almost as much as bananas!
Glutamine – Salmon is a good source of this necessary amino acid. Glutamine is responsible for digestion, tissue repair, and the elimination of waste products from the body. Our bodies produce some glutamine naturally, but we often need to consume additional amounts to get enough.
Iron – Salmon is not extremely high in iron, but it does contain moderate amounts of this vital mineral. Iron is necessary for the production of red blood cells. Without enough iron in your diet, you risk anemia. Low iron levels can lead to chronic fatigue, difficulty breathing, an irregular heartbeat, headaches, and dizziness. 
Salmon, a Nutritional Powerhouse!
Salmon has numerous nutritional benefits wrapped up in a versatile package. From filets to tacos, to sushi, or any other way you choose to consume it, salmon will deliver essential vitamins, minerals, and nutrients. 
The benefits of eating salmon include better heart and brain health, a stronger immune system, and more energy. Salmon can reduce inflammation and help you build stronger bones and muscles. There are so many reasons to love this delicious healthy source of protein!