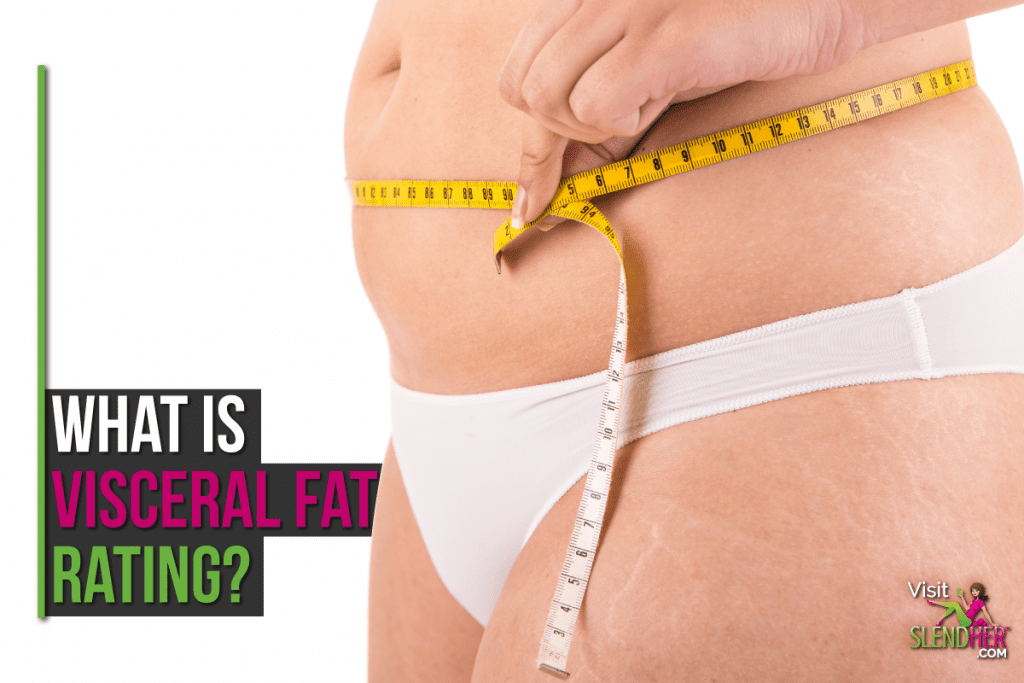 We all need body fat for a healthy body, but all fat is not created equal. Visceral fat is the fat that wraps around the abdominal organs deep inside the body. This type of fat is not easily seen as it's near all the vital organs, including the liver, stomach and intestines.
If you have some belly fat, this is not necessarily visceral fat. This could be what is known as subcutaneous fat, which is the fat stored under the skin. Subcutaneous fat is easier to see, whereas the visceral fat is inside the abdominal cavity and isn't apparent until there is so much of it that forms a hard pot belly.
It is important to understand that even if someone has a flat stomach, they may still have visceral fat wrapped around the organs. Do not define someone's health on how they look, what matters more so, is how the body is operating from the inside out.
How is Visceral Fat Rating Calculated?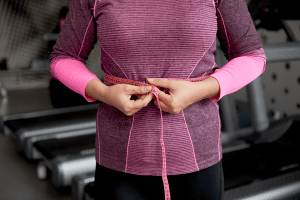 There are many ways to measure visceral fat. A definitive diagnosis of visceral fat is with a CT or MRI scan, however, these are expensive and time-consuming, and not easily accessible to everyone.
An easy way to measure your visceral fat is to measure your waist size. Using a tape measure, take the measurements around the largest parts of the waist and hip. Once you have measured both the waist and hip, divide the waist by the hip measurement. A healthy body should have less than 1.0 for men, and 0.85 for women. This is not an accurate way to measure visceral fat but will give a good general indication of the health of your body.
Another way with the tape measure is to simply measure around the belly button. In women, 35 inches or more is a sign of visceral fat. In men, it is 40 inches. Again, this is not an accurate measurement and can vary based on your natural body frame, but a general guideline.
For a more accurate measurement of visceral fat you can use a Tanita body composition monitor. This scale helps you to accurately monitor and calculate visceral fat.
What is a Good Visceral Fat Rating?
As mentioned above, there are various ways to measure visceral fat but most of them are not accurate. These ways to measure visceral fat give a good starting point to help you determine if your body is in good health or needs a boost of health re-evaluation.
Aside from the tape measurement results, there are the results from the Tanita body composition monitor which can help to give a visceral fat rating.
Visceral fat can be evaluated on a scale of 1 to 59. A good visceral fat rating is between 1 and 12 which indicates a healthy level of visceral fat. A rating between 13 and 59 indicates excessive levels of visceral fat. Immediate lifestyle changes are recommended when the rating is in the latter range if numbers.
How Do You Lose Visceral Belly Fat?
One of the best ways to lose visceral belly fat is to focus on your lifestyle. You have full control over your lifestyle and can start reducing your belly fat and transform your body today. Visceral fat responds well to exercise, diet, and managing stress levels.
Aim to exercise for at least 30 minutes a day. This can be a gentle walk, bike ride, running, yoga, strength training, HIIT workout, climbing, dancing, or any other physical activity that appeals to you.
Focus on reducing and managing stress as the stress hormone, cortisol, can increase visceral fat around the belly. Learn stress management strategies, practice mediation, deep breaths, read a relaxing book, listen to soothing music, and take time to slow down daily life.
Lastly, focus on nourishing your body with wholesome wholefoods. Think of fresh fruits, vegetables, healthy protein sources, complex carbohydrates, and healthy fats. Eat until satisfied, never left hungry and not feeling stuffed after each meal. Eliminate or massively reduce takeout/fast food, processed food, and ready-made meals. Focus on making your own meals at home and enjoy the process of preparing food.
To minimise and prevent visceral fat building up, maintain a healthy, active and low-stress lifestyle that keeps you happy, at peace and filled with joy for life.
Check out these articles for health inspiration: