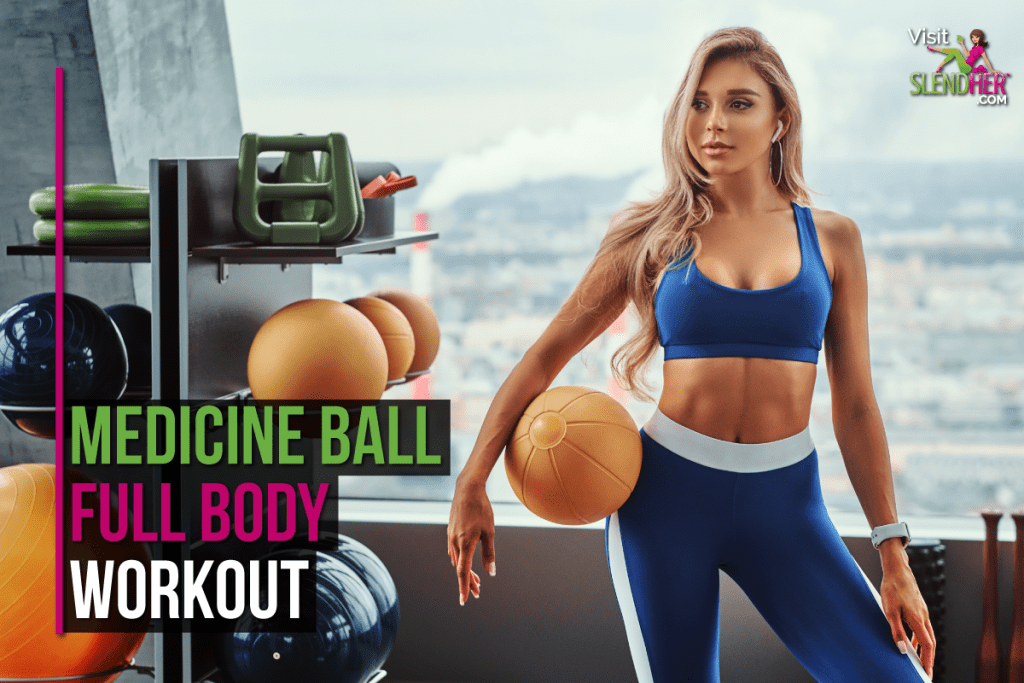 If you've never used a medicine ball for a workout, then you are missing out. Medicine balls are a simple fitness tool, that are fun and effective for a super workout. Like some fitness trends, certain equipment comes and goes, whereas the medicine ball has been around for a long time and for good reasons.
Medicine balls are an inexpensive piece of equipment that you can add to your home gym, or you could have it as your only piece of equipment if you want to keep costs low. Many gyms have medicine balls, and there is a reason why for this, they work. People love to slam the ball to the ground, use them for core exercises, and it's fun to use something else outside of barbells and dumbbells.
Are Medicine Ball Workouts Effective?
Medicine ball workouts are very effective. You can put together a medicine ball and bodyweight workout that combines endurance, stamina and strength whilst testing your fitness levels. You could go as far to say that the only gym you need is one with a medicine ball.
When it comes down to creating an effective workout it depends on what results you want from your workouts. Whether you are looking for stamina, endurance, strength, fun, core, upper body, lower body or full body workouts, you can certainly achieve this with a medicine ball.
What Kind of Exercises Can You Do with a Medicine Ball?
To achieve an effective workout with a medicine ball you want to compile a mix of exercises, that are easily doable with the medicine ball.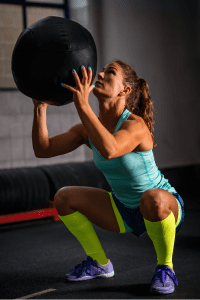 Here are some medicine ball exercises:
Medicine ball lunge with twist
Medicine ball squats
Medicine ball thrusters
Medicine ball jump squats
Medicine ball wood chop
Medicine ball Russian twist
Medicine ball slams
Medicine ball partner throws
Medicine ball shoulder press
Medicine ball push press
Medicine ball press up
Medicine ball mountain climbers
How Heavy Should Your Medicine Ball Be?
Depending on what type of exercises and workout you are doing, depends on the weight of the medicine ball you should use. If you are new to using the medicine ball be sure to start with a small light medicine ball. For most people, use a medicine ball weight between 2kg (~4.5 lb) and 8kg (~18 lb). This depends on your size, strength and what exercise you are doing.
Medicine Ball Full Body Workout
To create a medicine ball full body workout start with the basic movements you might have done before with a dumbbell or barbell so that you can get used to the weight distribution of the medicine ball.
Follow the six exercises in order and do 3 to 4 rounds. Rest for 30 to 60 seconds between each round.
1 – Medicine Ball Thrusters – 10 reps
Hold the ball with both hands at chest height. Squat down as low as you can, keeping your heels on the ground, then stand back up and press the ball directly overhead until your arms are straight. Lower it back to the start position, then go straight into the next rep.
2 – Medicine Ball Side Lunge – 10 reps each side
Stand with feet shoulder-width apart, holding the medicine ball at your chest. Take a large step to your right side. When your foot reaches the ground, bend your right knee and sit your hip back in a one-legged squat position. Keep your left leg straight. Push through your right foot and return to the starting position. Repeat on the other leg.
3 – Medicine Ball Single Leg Deadlift – 10 reps each side
Stand with your feet together and the medicine ball held straight out in front of you. Keeping your right leg slightly bent, bend at your hips letting your torso fall forward, and extend your left leg straight out behind you. Ensure that your back is straight, core is tight, hips are square to the ground, and neck is neutral. When your torso is parallel to the ground, return to the upright position. Repeat on the same leg and then switch and repeat on the other leg.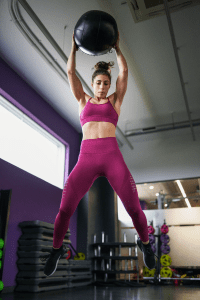 4 – Medicine Ball Slams – 10 reps
Hold the ball with both hands at chest height. Raise it overhead, then explosively slam it down in front of you. Catch it as it bounces and repeat the move. Aim to do each slam as forcefully as you can and keep the tempo high.
5 – Medicine Ball Russian Twist – 10 reps each side
Start in the top of the crunch position, holding the ball in both hands. Rotate to one side and then the other, keeping your abs engaged. That's one rep. If you want to make the move even more challenging you can raise your heels slightly off the ground.
6 – Medicine ball Toe Touch – 10 reps
Lie on your back with your arms and legs extended, holding the medicine ball in your hands. Engaging your core, lift your arms and legs straight up to meet above your mid-body, crunching upward to ensure they touch. Slowly lower back down to start.
Put the dumbbell down and pick up the medicine ball for a different and fun workout!