So, you suffer from migraines and are willing to try most anything to alleviate that debilitating pain. I get that.
And now you've heard that some people use acupuncture to treat their migraines. But you wonder if it's true, "Does acupuncture really help relieve migraine pain?"
Well, it seems the answer is, "yes!" Numerous research studies indicate that acupuncture really can work in treating migraines.
So, let's dive a little deeper into that subject.
First, What Is Acupuncture?
Acupuncture is a therapeutic practice used in traditional Chinese medicine that involves inserting fine needles into targeted pressure points along a person's neck, back, arms, or legs to alleviate pain.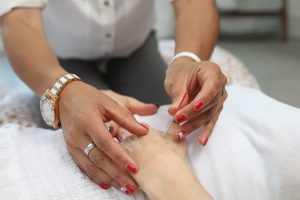 Chinese medicine explains that there are 14 meridians along the body. Pain and illness occur when something disrupts the energy that flows along these meridians. But acupuncture promotes blood flow in the tissues and helps rebalance that energy.
Most acupuncture treatments take about one hour. And some say a minimum of six weekly sessions yields the best results.
The alternative therapy gained popularity in the U.S. just over 20 years ago after the National Institutes of Health (NIH) recognized acupuncture as an effective treatment for postoperative dental pain and chemotherapy-induced nausea and vomiting.
Today, acupuncture therapy treats a range of conditions, especially those involving chronic pain such as migraine. And better yet, some insurance companies even cover the costs.
How Does Acupuncture Help with Migraines?
Migraine is a prevalent, disabling, and difficult to treat neurological disease. In fact, the World Health Organization (WHO) has named migraine as the world's eighth most disabling disease.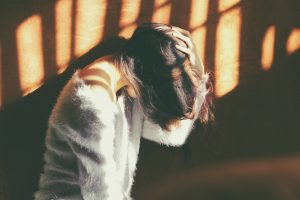 Unfortunately, traditional western treatments don't work for everyone and often come with negative side effects. In fact, some treatments, including drug therapies, can actually aggravate migraine pain. And misuse of acute migraine medications can elevate a person's risk for having more migraines.
So, for obvious reasons, many individuals who suffer from migraines look for safe and effective alternative treatments, such as nutritional therapies, yoga, and, yes, acupuncture.
Chinese medicine claims that acupuncture helps the body maintain ideal blood pressure as well as heart and respiratory rates. When off balance, any of these bodily functions can activate a migraine. And some claim that acupuncture can treat anxiety, depression, and insomnia, conditions that may cause migraines.
The U.S. medical community now backs acupuncture as a viable alternative option for treating migraine patients who don't respond well to conventional pharmacotherapy. And the highly respected Cochrane Systematic Review reported that acupuncture decreases the length and frequency of migraine.
Though more research is needed, current studies indicate that acupuncture can significantly reduce both the length and incidence of migraines.
Research has shown that acupuncture reduced migraine frequency by more than 50% in 59% of a study's participants. Still another study concluded that acupuncture was more successful in reducing the duration and intensity of migraines than traditional western medicine therapies.
Some might attribute the benefits of acupuncture to the placebo effect. But a considerable amount of research has included fake or sham acupuncture treatments offered to a control group. In these studies, the individuals receiving real acupuncture treatments experienced superior outcomes.
It's important to note that these studies suggest acupuncture is most effective for treating migraines after six to eight visits. Still other research indicates that a person will need about 20 acupuncture sessions to reduce migraine frequency.
And there's more good news… In addition to effectively treating migraine, acupuncture is safe and not generally linked with serious complications.
In Sum
So again, the answer is "yes!" Acupuncture does work to alleviate migraine pain, duration, and frequency in some patients. With that said, anyone suffering with debilitating migraines might wat to give acupuncture a try. Because really, why not?
But, as always, you should talk to your doctor about any alternative treatments before giving them a try. And find a highly trained and qualified acupuncturist before proceeding with treatment.