If you've made "out with the old and in with the new" your motto for 2016, then detoxing might be on your January to-do list. While "detoxing" is a trendy word in the world of dieting–especially following the over-indulgences of holiday food and cocktails–it's not the type of detoxing to which we're referring. That kind of detoxing often falls more under the category of "fad diets," complete with only drinking liquids for a period of time, or eating all raw fruit and veggie meals, and even doing colon cleanses.
While that's certainly one way to detox, it's not necessarily a good long-term solution. And some experts say there is little proof that detox diets are effective at removing toxins from the body and can sometimes lead to negative side effects of fatigue and vitamin and mineral deficiencies, to name a few.
If you're looking to rid your body of toxins while also stimulating digestion, circulation, and organ function, skip the detox diet and add a few yoga poses into your regular practice. And while your body is in ditch mode, the following yoga poses can also help to detox your mind, too. Any lingering stress, holiday funk, or general fogginess is no match for some sessions of self-reflection. So roll out your mat, warm up with a few rounds of Sun Salutations, complete these moves in a sequence, and get rid of what's no longer needed.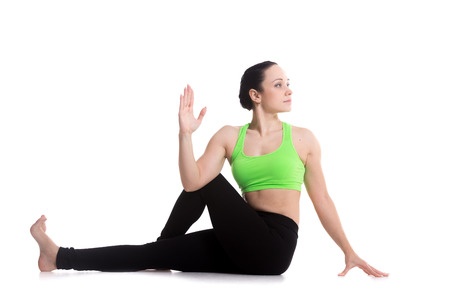 Seated Spinal Twist: When it comes to detoxing the body, you gotta get twisted. Twist poses compresses the digestive organs allowing new blood flow to circulate in after the compression. This can help to clean out waste, while the circulation of blood brings fresh oxygen and nutrients to the digestive tract. To do, sit on the ground with your legs straight in front of you. Bend one knee and set the foot on the inside of the opposite knee. Place the hand on the bent knee side behind you and with a long straight spine, twist your core. Bend your other arm and use your elbow to anchor against your knee. Breathe deeply in this position for five to 10 breaths, trying to twist deeper with each exhalation.
Twisted Goddess Pose: Adding to the twisting benefits, this pose also helps to strengthen your lower body and open your shoulders. To do, stand with your feet wide apart, at about shoulder width, and your toes pointed out. With a straight back, sink into a deep squat. From the hips, bend forward, maintaining the deep squat position. Place your hands on the insides of your knees and gently push into them as you rotate your chest toward the ceiling. Breathe here for three to five breaths before switching to the other side.
Twisted Chair Pose: Keeping the twisting momentum, this pose helps to ground you while also opening your chest. To do, stand with your feet below your hips and your palms together at your heart. Sit back and down as if sitting into a chair. Keeping your spine long and your knees even, rotate your chest to one side and place the elbow of the opposite arm against the outside of your knee. Sink back into the chair pose and breathe in this position for three to five breaths. Repeat on opposite side.
Shoulder Stand: Turning your world upside with inverted poses can help a lot with body, including digestion, reducing stress on the heart, boosting immune function, and soothing anxiety. To do, lie on your back with your arms at your side and bend your knees with your feet flat on the floor. Lift your hips off the ground and curl your knees toward your chest as you push your feet up toward the ceiling. You can either place your hands on your lower back, using your elbows to help prop you up, or you can lay your arms flat on the ground. Your weight should be in shoulders, with your chin tucked into your neck and chest. Keep your head here when in this this pose. Breathe for 30 to 60 seconds in this pose. When it's time to come out, slowly roll your spine back down until you are flat on the ground.
What is your favorite yoga pose and why? Tell us in the comments!