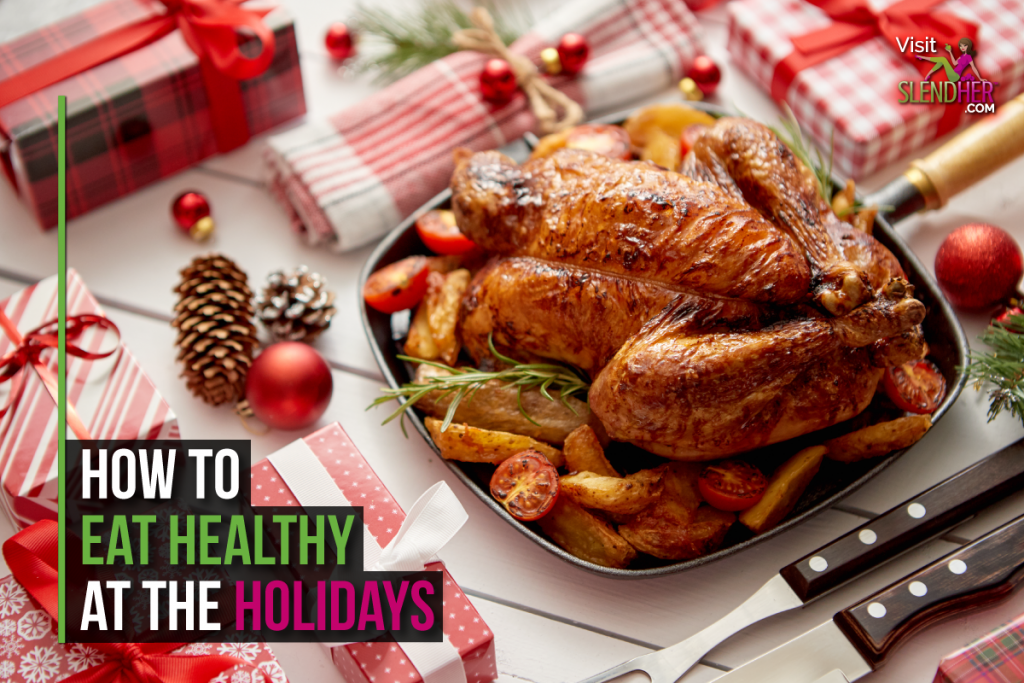 Do you get anxious or excited about food during the holidays? It starts with Halloween eating all the sweets, then big Thanksgiving meals, and then weeks leading up to Christmas with the temptations everywhere, and then the big day arrives with Christmas Day, and then the leftovers and alcohol fueled week between Christmas and New Year.
When does it stop?
There is another way to look at this time of the year and learn how to enjoy eating during the holidays without worry.
How Can I Eat Healthy Over the Holidays?
Learn how to eat healthy at the holidays in a balanced way with these 6 top tips so you can feel good without feeling deprived, or stuffed head to toe.
Start the Day the Best Way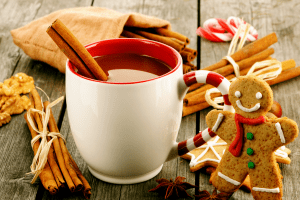 Start your day with plenty of hydration such as a big glass of water and a cup of herbal tea. Then enjoy a healthy warming breakfast such as porridge topped with fruit and seeds. You can even add a small piece of dark chocolate, too! Fueling your body with plenty of hydration and healthy food will give you energy and avoid those cravings kicking in during the day.
Keep Hydrated
As mentioned above, start the day with plenty of hydration, and keep the body hydrated for the rest of the day with water. If you are prone to a few alcoholic drinks then drinking water will help to prevent dehydration. Plus, it can be easy to eat for the sake of it when all the extra food is around when you are not hungry. Have a glass of water first to see if you are hungry or just thirsty!
Eat What You Love
With all these exciting looking foods around every corner you turn and foods that bring back fond memories from childhood holidays, be sure to eat foods you actually love. You do not need to eat certain foods during the holidays just because they are there. If you have a bite and you don't like it or it doesn't excite your taste buds for another bite, then don't eat anymore of that food. It's ok to just eat what you love and skip the rest.
Forget the Guilt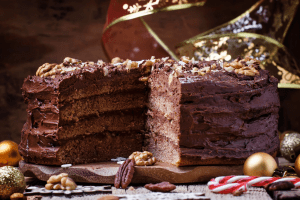 No matter what happens during the holidays, do not feel guilty for the foods you eat. It is important to have a healthy mindset with food all year round, and this should continue during the holidays. If you want the food, enjoy it and savour every bite. If you don't want it, then don't eat it. It is very simple when you allow yourself to relax with food. If you find yourself overeating a particular food and then feel guilty afterwards, then it is important to work on your relationship with food.
Do Not Skip Meals
Skipping breakfast and lunch to save all your calories for dinner will lead to overeating and very poor digestive issues following on from this meal. This pattern of depriving your body and then having an all out binge is only going to add to a negative mindset with food over the holidays. This is not ideal for a healthy mind and body. Eat a healthy breakfast and lunch to keep your body satiated. You can keep those meals lighter than normal if you know you are going to have a slightly bigger dinner than normal. However, do yourself a favour and don't starve yourself throughout the day!
Eat Mindfully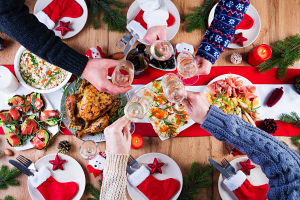 Be mindful with the food you eat during the holidays. Eat the foods you enjoy and eat until satiated. You do not need to avoid a certain food or meal because it is deemed "unhealthy".  It's ok to eat dessert, enjoy it. At the same time, you do not need to eat so much of that food that you feel physically sick and have terrible digestion for the rest of the week. With each meal during the holidays, be in tune with your body and pay attention to how you feel in your stomach. Are you full? Stuffed? Bloated? Hungry? Does the stomach feel light after that meal? Be mindful of how much you are eating – and adjust your eating to make sure that you can enjoy holiday meals without overdoing it.
For eating healthy during the holidays, check out these articles: