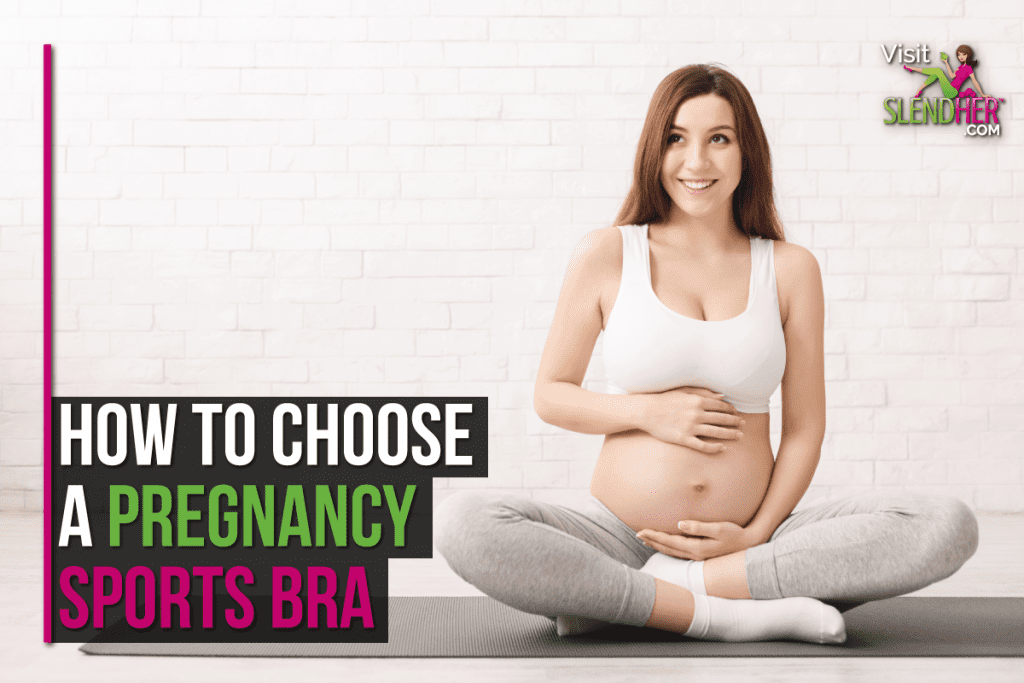 There is so much to think about when pregnant, that the last thing to make the list is a pregnancy sports bra. However, if you are an active mum-to-be, it is an important item to think about since your breasts are growing at a rapid rate during pregnancy.
As your body changes in preparation for your baby, it is important to choose a supportive sports bra for your comfort to avoid the unpleasant feeling of squashed breasts in your bra. For those of you that feel discomfort in the changes of your body when pregnant, make sure you choose a well-fitting bra to tick one item off the list of body discomfort.
How Do I Know What Size Bra to Buy When Pregnant?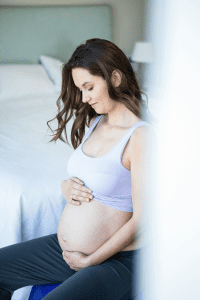 Before we look at sports bras, let's take a look at bras in general when pregnant. It is very difficult to know how much your breasts will change throughout pregnancy and breastfeeding, so it is important to not worry about getting a perfect size, especially in the early stages of pregnancy.
Some mums will stay the same size, some only gain one cup size, whilst other mums increase by three or more cup sizes. As you can see there is a vast difference in how the breasts might change during this time of growing a baby.
The first step is to ensure you are wearing the right bra size for your body now, you can do this at home with a tape measure or by a professional at a shop. Then decide do you plan to wear a bra throughout the whole pregnancy or just for certain occasions. Some mums like to wear bras all the time, some mums never wear bras. You'll have to get clear on your own preference.
Once you know your bra size and your preference for wearing a bra, it is as simple as measuring your breasts every one to two months to see how much they have grown and if you need to buy a different bra size.
Are Sports Bras Good for Pregnancy?
The key to a sports bra when pregnant is wear what's comfortable for you. Sports bras come in various shapes and styles, such as underwire, wire free and high impact. Ideally, choose a wire free bra that is comfortable and supportive. Some sports bras compress the breasts which is not ideal when the body is changing. If your breasts are growing and a sports bra is getting too uncomfortable, choose an everyday bra that fits better and provides the support you need.
There are not many pregnancy sports bras available compared to standard sports bras and everyday bras. You can choose a breastfeeding sports bra which provides more comfort and support, a soft structured yoga bra, or an everyday bra that is comfortable for you.
Tips to Select the Right Sports Bra
So, where to start? As there are limited pregnancy and nursing sports bras, it is a good idea to do some research online to see what other mums wear when exercising and try on different styles of sports bras to see what fits you best and suits your needs. Here are a few tips to help you find the right sports bra when pregnant:
Comfort – This is the number one priority! No matter the style of the sports bra, choose one that you feel comfortable in. Look for soft and supportive fabrics that will feel good throughout the pregnancy as your body changes.
High-Impact Support – Depending on the type of exercise you do, it is important to look for a sports bra that offers support for high-impact movement. If you plan to keep doing the same high-impact exercises throughout the pregnancy and your breasts grow it is very important to invest in a good supportive sports bra.
Zip Front – Some sports bras have a zip front which is a great design for giving space to breathe and move in the bra. The zip front style offers flexibility in the bra which some women love when pregnant!
Breastfeeding Pads – If you plan to breastfeed and want to wear the sports bra after baby is born, then look for a style that has space for breastfeeding pads and easy open cups for breastfeeding.
Can I Go Braless During Pregnancy?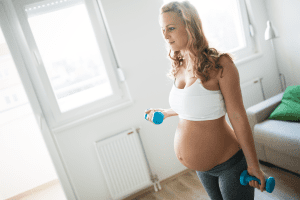 You can choose not to wear a bra when pregnant – or ever wear a bra in fact! Some women never bras, whether pregnant, breastfeeding or outside of the growing a baby phase of womanhood. Some women, no matter the size of their breasts, do not want to or like wearing a bra.
If you are someone who never wears a bra, doesn't need a bra or is thinking about ditching the bra, don't be afraid to do this when pregnant. Bras do offer support, and some women need that extra support, especially when exercising, but it's not always needed depending on the type of exercise you do and the lifestyle you live.
If you are a braless kind of woman during pregnancy and your breasts grow more than expected, keep the option open for a pregnancy bra as your breasts might need that support to give you comfort, especially when doing exercise.
Tips for Wearing a Sports Bra During Pregnancy
Avoid wearing bras at home – Whilst at home, you can go braless, especially during the last trimester as you might find this more comfortable.
Maternity bra – Once you reach the last trimester, you might find it more comfortable to wear a maternity or breastfeeding bra whilst exercising.
Measure yourself – If you are wearing a bra throughout the pregnancy, keep measuring your band and cup size every month or so to see if you need a bigger bra.
Don't exercise too hard – As the pregnancy progresses, you might find you don't want to exercise as hard as you did pre-pregnancy and might not need a super supportive sports bra. For example, if you did lots of running or HIIT workouts, you might want to switch to walking and yoga in the third trimester.
Check out these articles for new mums: