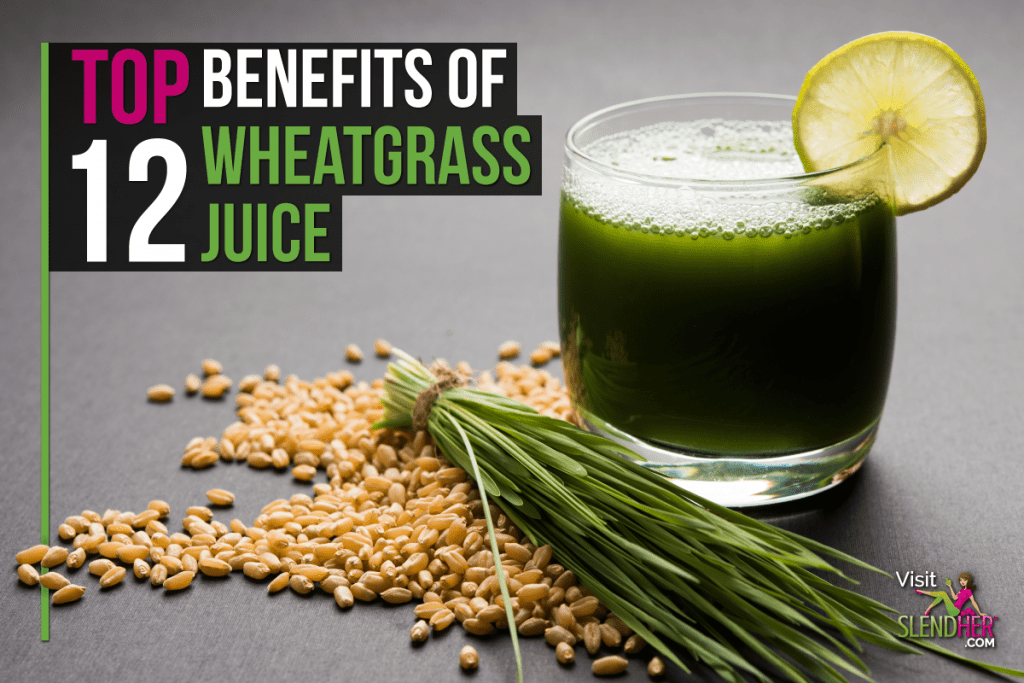 Wheatgrass has been around the health industry for many years and it still continues to pop up in health food stores, juice bars and health food trucks. There must be a reason for why this healthy grass remains popular in health news and we will discover the top 12 benefits of wheatgrass juice in this article.
Wheatgrass comes from the plant family Triticum aestivum. It is from the young grass of a wheat plant which is a thick dry grass with a vibrant bright green colour. It looks like the standard grass you see in the garden, but it is packed with more nutrition. Many health professionals like to use it in natural and holistic medicine, whilst some health-conscious people like to take a morning shot to get the supposed health benefits.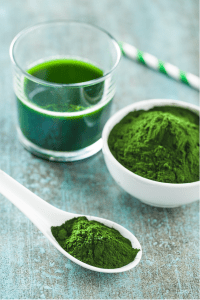 Is Wheatgrass Powder or Juice Better?
Wheatgrass can be purchased in powder or juice form. Which one do you choose?
Wheatgrass juice powder and wheatgrass powder have notably different nutritional/phytochemical profiles. While a wheatgrass powder can have nearly 4 times more fiber than wheatgrass juice powder, the juice powder will typically have more (and in some cases, significantly more) of vitamins A and E, Calcium and other nutrients. – NutraScience
You will get excellent nutrition from both sources of wheatgrass. Try not to overthink which is best and choose the one that suits your preferences.
Can You Drink Wheatgrass Juice Daily?
When you first start taking wheatgrass it is best to start small and slow to see how your body responds. Start taking wheatgrass every day or every other day. Begin with a small dose of wheatgrass juice and gradually increase the amount to the recommended dose. This will help your body to adjust to digesting wheatgrass.
If you have any severe side effects then reduce the amount taken, and if that doesn't work then do not keep taking wheatgrass as your body might not be able to digest it.
If your body can tolerate wheatgrass juice, then exactly what health benefits make it worth it?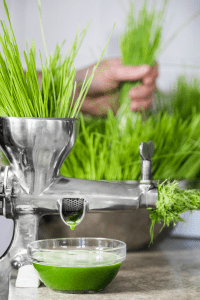 Top 12 Benefits of Wheatgrass Juice
Packed with Nutrients – Wheatgrass is loaded with nutrition and has a very impressive nutrient profile, including iron, potassium, vitamins A, C, E, magnesium, calcium and chlorophyll.
Antioxidant and Anti-Inflammatory – Wheatgrass contains ingredients that act as antioxidants similar to other plant-based foods. Antioxidants help fight chronic inflammation which happens when the immune system reacts to an unwanted substance.
Helps Digestive Issues – Wheatgrass is commonly used as a remedy for diarrhoea and other digestive issues.
Helps Heal Wounds – Wheatgrass benefits for your skin include topical treatment to treat burns, ulcers and other skin lesions. The high dose of chlorophyll in wheatgrass juice might be linked to the healing properties on the skin.
Might Help Fight Infections – Some research suggests that wheatgrass can be useful for treating infections that are resistant to antibiotics as shown in this study.
Can Help Boost Metabolism – Drinking wheatgrass juice can help to boost your metabolism and aid in weight loss. As it is a nutrient-dense food is can help some people to feel fuller and satisfied which can help reduce cravings.
Can Help Balance Blood Sugar Levels – When it comes to lowering blood sugar levels, it is a good idea to eat plenty of fruits and vegetables whilst limiting sugar. Due to the high content of nutrition and chlorophyll in wheatgrass juice, it can help to balance blood sugar levels.
Can Help Lower Overall Disease Risk – Just like any other plant food picked with nutrition, wheatgrass juice is loaded with an impressive amount of nutrients. We all know nutrition is the key to building a healthy body that can prevent and fight disease. Wheatgrass is packed with the flavonoids, chlorophyll and vitamin C which are top nutrients to help fight the damaging effects of free radicals and reduce inflammation.
Easy to Add to Your Day – As wheatgrass is available in juice, powder and capsule form, it can be easily added to your daily diet. You can add wheatgrass juice to smoothies and mix into salad dressings, or simply have a quick shot in the morning.
High in Chlorophyll – Chlorophyll is what makes plants green and healthy. It can help heal skin, improve the quality of blood, help detoxify the body, energise the body and get rid of bad body odours.
Boost Levels of Energy – Due to the high content of chlorophyll and other high dose nutrients it can boost your energy levels higher than usual. When the body is packed with nutrition it feeds off the nutrients and gives the body a new bounce in your step.
Rich in Protein – Wheatgrass is surprisingly rich in protein and contains 17 amino acids, which are the building blocks of protein.
When you start taking wheatgrass pay attention to how your body responds and take it slowly as you introduce the dose. Take note of any side effects such as increased energy. If you need help on dosage, speak to a health professional to get the advice you need on when and how to take wheatgrass juice.