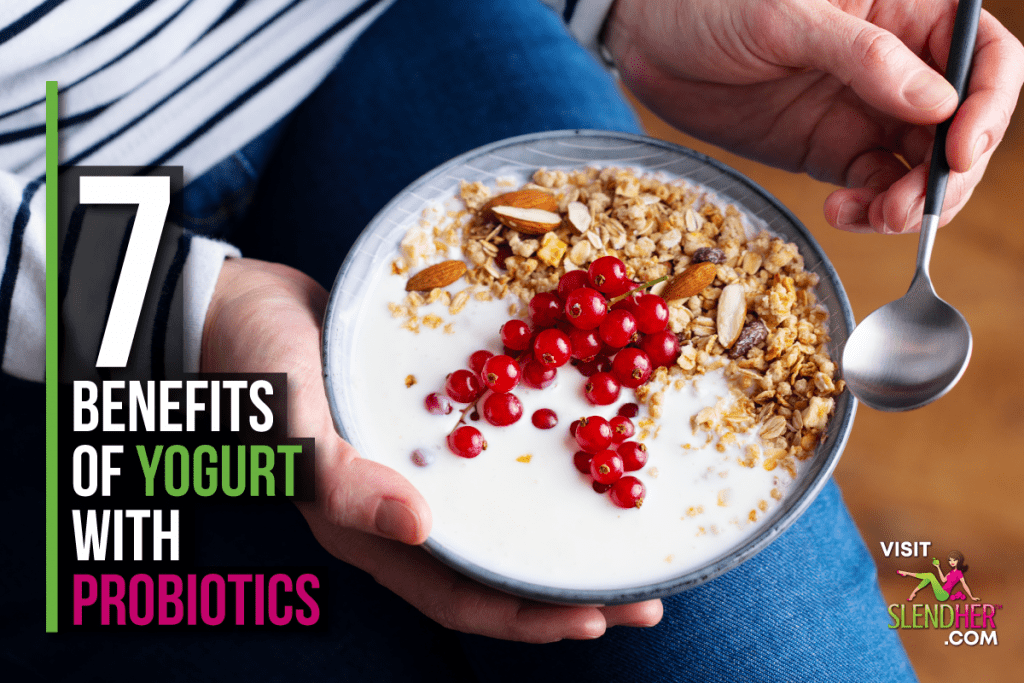 Yogurt is an incredibly creamy, delicious food packed with calcium, protein, and probiotics.  Did you know you can get vegan yogurt with probiotics, too? There is so much to learn about yogurt and how this yummy snack can provide the body with impressive benefits.
What are the Benefits of Eating Probiotic Yogurt?
Yogurt has been around a long time and is still here to this day for good reason: it's tasty and healthy. Here are 7 benefits of yogurt with probiotics: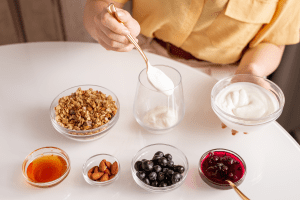 1 – Rich in Nutrients
Yogurt is high in calcium which makes it a delicious option for boosting levels of calcium in the body. Calcium is important for bone health, balancing acid/alkaline levels in the blood, as well as muscle and nerve function. It is high in B vitamins such as vitamin B12, which is essential for energy metabolism, brain and nervous system health, DNA production, and cardiovascular support. If it's a non-dairy yogurt it has a higher fibre profile – fibre is important for the digestive tract which supports good gut health.
2 – High in Protein
Yogurt has a good amount of protein, which makes it a simple staple to add to the daily diet to boost levels of protein. As an essential macronutrient, protein is important for maintaining the integrity of the body's structures. This means it helps muscles and connective tissues to function properly. Whether you exercise, are generally active, or lead a sedentary lifestyle, you need to eat protein to support the health of muscles and tissues in the body to grow and heal.
3 – Supports Healthy Digestion
One of the key benefits of yogurt with probiotics is it helps support a healthy gut. Probiotics contain living micro-organisms and when added to yogurt they produce a live culture that helps to support digestion and absorption of nutrients. Consumption of yogurt with probiotics can help to steady the passage of food through the digestive tract, which makes it easier to digest the food, reduce any blockages in the tract and prevent issues such as constipation or diarrhoea.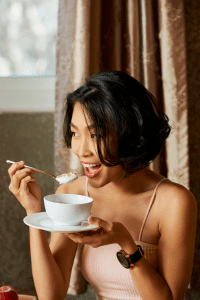 4 – Can Help Control Appetite
Yogurt with probiotics can help control your appetite due to the live bacteria working its delicious magic in the digestive system. When the stomach works efficiently and you eat food that is nutritious it can help your body to feel satiated. When you feel satiated this helps to reduce cravings and therefore can help control appetite.
5 – Boost Immunity
Yogurt can help to boost immunity, partly due to the other nutrients found in or added to the yogurt such as magnesium, selenium, zinc, and vitamin D fortified yogurts. All of these nutrients play a key role in building a healthy immune system and therefore might help with immunity when consuming yogurt with probiotics.
6 – Boost Energy
Yogurt contains many nutrients that help support energy metabolism. B vitamins, vitamin D, carbohydrates and fat help to give the body a boost of energy which can all be found in some probiotic yogurts.
7 – Balance Blood Sugar
Due to the live bacteria cultures and protein content, yogurt can be a fantastic food for blood sugar levels. Protein is a great nutrient for supporting blood sugar levels as it digests at a moderate rate, whilst the live bacteria helps the digestive tract to function properly which means any food digested will be absorbed at a moderate pace.
On top of all these 7 benefits of yogurt with probiotics, you can get non-dairy yogurt too which still tastes delicious and packs all the probiotic benefits. Check out these non-dairy yogurt alternatives!
How to Enjoy Yogurt
Here are a few easy and quick ideas:
Use as a dip with home-made chips/fries
Use in Mexican meals such as nachos, tortillas and tacos
Mix in fresh fruit and a little agave or maple syrup
Top yogurt on porridge or granola
Mix in a good quality chocolate protein powder for a healthy treat or dip with fruit
What is your favourite way to enjoy yogurt?