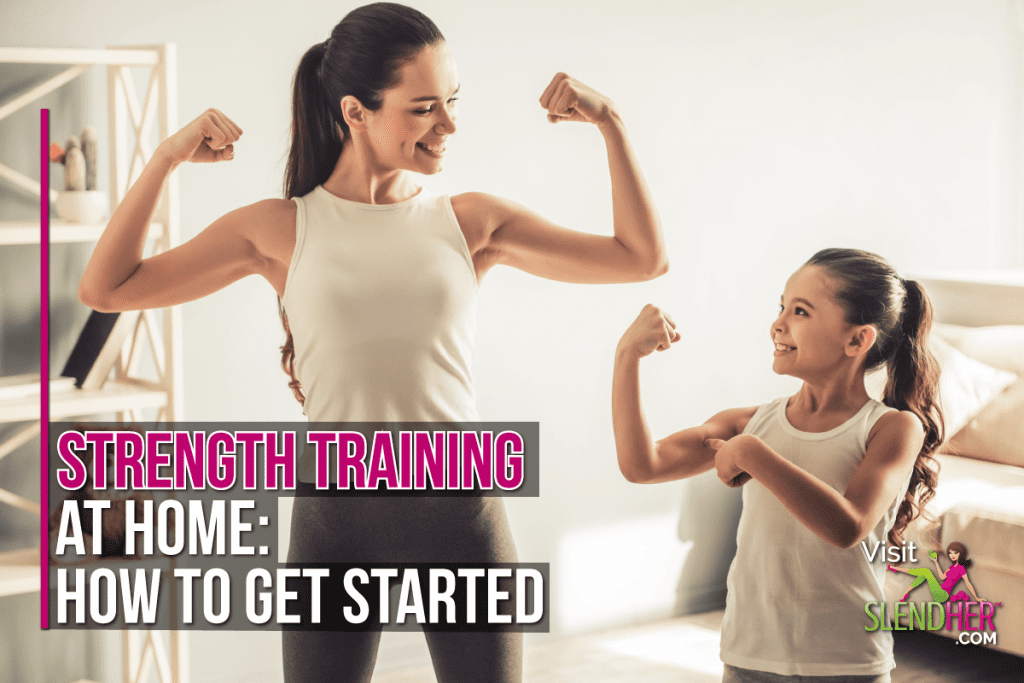 Are you a newbie to strength training? Do you want to workout at home but feel lost on where to start? Here you will find out how to get started to build your confidence in strength training at home.
Why Strength Train?
There are many reasons to strength train as a woman. You do not need to be a bodybuilder or gym rat to do strength training, whether you're a mum or not, your body will benefit from gaining overall strength. Strength training can help to strengthen the bones and prevent osteoporosis. It can help protect your joints for everyday life and prevent injures in normal tasks such as lifting children, moving boxes and household tasks. Training the muscles can help you be fitter and generally feel strong. It can help build confidence in your body and build a strong mindset. Also, it can help improve muscle endurance and increase fat loss results. Most of all, it is a very efficient form of exercise to help the body be fit and strong in a shorter workout time compared to doing endless hours of cardio.
For those of you looking for a short effective workout to fit around a busy lifestyle, strength training is the perfect solution for you.
Benefits of Strength Training at Home
Are you wondering why you should train at home? What are the benefits of home v gym strength training? Check out the reasons below…
Go at your own pace – Put the music on and enjoy the workout at your own pace without feeling pressured by others around you. If training around others scares you from going to the gym then this is the best way to exercise.
Less clothing – If it's a warm day and you get super hot when working out and feel uncomfortable wearing minimal gym gear then you can wear whatever you want at home without worrying. This will help you to enjoy the workout and be consistent for the long term without thinking about what others think!
No waiting – If you go to a busy gym at the busy time and tend to find you're waiting for equipment then working out at home is the next best option.
Practice form – You an practice your technique of each exercise without feeling self-conscious. If you tend to hold back from doing specific exercises at the gym for fear of looking a 'newbie' then work at home and practice technique and build your confidence for the gym.
Convenient – If you are a busy mum or simply lead a busy lifestyle then training at home is the most convenient way to workout. You can work out whenever you want to make it fit your schedule.
Affordable – If money is an issue then training at home is the answer for you. For a small financial investment you can still have an effective strength session at the comfort of your own home. You can find a workout routine online, invest in an online fitness coach, and purchase a few pieces of equipment.
How to Start Strength Training
Invest – Purchase a few pieces of equipment to make your own home gym. You can train in the lounge, garage, office or garden, whatever space works best for you. Here are some ideas of equipment you can purchase:
Dumbbells
Barbell and plates
Bench
Fitness ball
Resistance bands
Kettlebells
Skipping rope
Step
Yoga mat
If you can only afford a few pieces to get started, then go with a few different dumbbells in various weights, a yoga mat, a fitness ball and a skipping rope.
Learn the lingo – Once you understand the strength training vocabulary you will feel confident in training at home. A repetition, or rep, is one complete movement of a particular exercise (for example, one squat or one bicep curl). A set is a specific number of consecutive repetitions (for example, 3 sets of 15 reps). A circuit or round is a sequence of exercises repeated in a cycle. A superset is two exercises performed back to back for a certain number of reps and rounds. There are more to learn, but this a good place to start.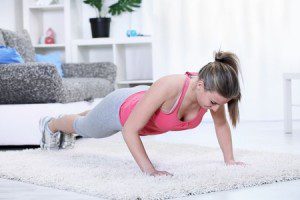 Focus on the muscle – When doing strength training it is very important to focus on the muscle you are working. For example, when performing a bicep curl focus on the squeeze of the bicep as you lift the weight, and then relax the bicep muscle as you lower the weight back down. You will achieve more results from your strength workouts when you focus on the muscle for each exercise.
Practice technique – This is an essential step! When you start lifting weights it is crucial that you learn how to lift properly to avoid injury and get the most out of your workouts. Your muscles will respond better which equals better results. Always focus on engaging your core muscles when lifting, practice good posture, and lift with light weights at first to build your confidence and ensure you are doing the movement correctly.
Bonus Trainer Tip: Don't feel you need to be at a gym and train six times a week to have a good workout routine. You can have fun effective strength workouts at home three times a week when done properly. If you are a busy mum, this is the perfect way to add exercise into your routine without feeling scared about where to start!
You got this strong lady!