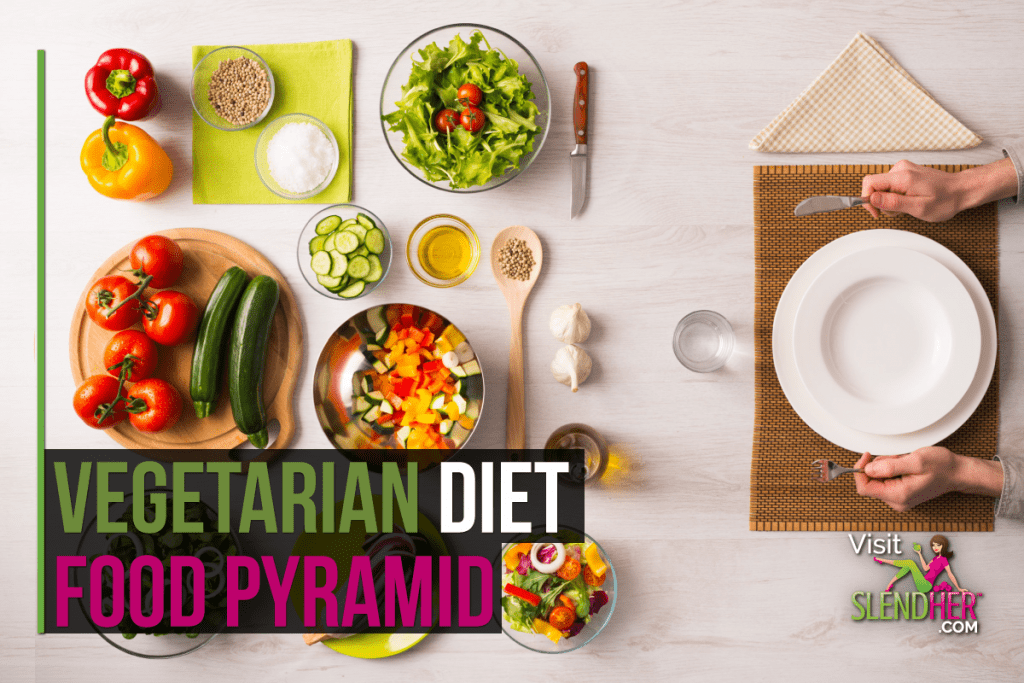 Are you curious to go meat-free? Have you cut back on animal products and looking to incorporate more fruits and veggies into your daily meals? Unfortunately, a vegetarian meal does not necessarily guarantee that it is a healthy meal. Having a good understanding of recommended foods to eat as a vegetarian can help you feel confident in your food choices. The vegetarian diet food pyramid can be a great tool in helping to navigate what to eat.
What is the Vegetarian Diet Food Pyramid?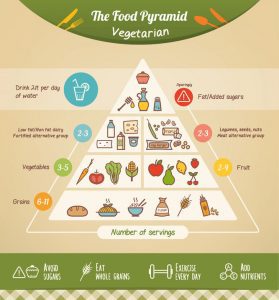 The vegetarian diet food pyramid was created to help give a visual representation of foods to eat for healthy balanced meals. The pyramid is grouped into vegetarian categories of foods to eat that will help you to maintain a healthy way of eating. It is a similar structure to the traditional food pyramid commonly known by mainstream health education including meat, eggs and dairy, as it has the foods at the bottom to eat in larger quantities and foods at the top in smaller quantities. The difference with this pyramid is the focus on vegetarian food. 
By using similar principles from the original pyramid with serving sizes, simply follow the serving sizes recommended for the vegetarian foods. Using this structure will help to reduce anxiety over what to eat, whilst helping to understand how much food to eat to satisfy your body. The vegetarian diet food pyramid provides guidelines for the daily amounts of different foods needed for a healthy diet. 
Check out this recent article on satiety to understand how much food to eat for your body.
Worried About Going Meat-Free?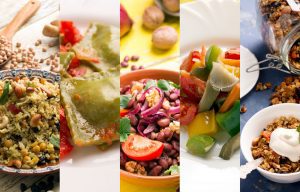 A massive benefit to eating vegetarian foods is noting the wide variety of foods. When someone stop eating meat, a few common questions that pop up are: "what will I eat?", "will I starve?", "will I just be eating salad like a rabbit?", "what about my iron levels?", and "will I be deprived not eating meat?". Contrary to popular belief, a vegetarian diet encompasses a wide variety of foods.
Firstly, eating a variety of foods ensures you get an abundance of nutrition to help the body be healthy. As you can imagine, a vegetarian diet includes plenty of vegetables, and fruit, which means you will have a lot of nutrients from the foods. The pyramid is carefully balanced to ensure the body is supplied with a variety of nutrients to satisfy the mind and body to avoid deprivation, cravings, and being hungry. 
Create Balance with the Pyramid
Each food group represents nutrients the the body needs to function optimally. Focusing on eating a variety of foods from each group for all main meals and snacks will cover all bases. The foods are whole foods, including plenty of fresh food, which is far healthier than many standard diets.
If you are feeling lost on what to eat when trying to be vegetarian then using this tool will help you get the nutrients needed without meat in the diet. It is a simple guide which can help you create balance in your health. After awhile you won't need the pyramid anymore as you familiarise yourself with the group basics and serving sizes.
What is in the pyramid?
Starting at the bottom of the base, here are the food groups:
Whole grains – whole, unrefined grains including oats, whole grain pasta, brown rice, quinoa, millet, couscous, barley, rye, spelt
Legumes and soy – chickpeas, lentils, peas, edamame, black beans, pinto beans, cannelloni beans, kidney beans, peanuts, green beans
Fruits – all fruit such as bananas, apples, grapes, berries, oranges etc
Vegetables – all vegetables such as broccoli, carrots, cauliflower, lettuce, cabbage, kale etc
Nuts and seeds – cashews, walnuts, almonds, brazil nuts, pecans, chia seeds, flaxseeds, hemp seeds, pumpkin seeds
Vegetable oils – Olive oil, coconut oil, almond oil, rapeseed oil, sunflower oil, sesame oil, etc
Dairy and eggs (*this only applies to those that choose to eat some animal products, not meat. This doesn't apply to vegans) – milk, yoghurt, cheese, eggs etc
Sweets – this isn't essential but is a small part of the pyramid to create space for those delicious sweet treats we love but know aren't healthy when eaten in large amounts. Eat these foods in moderation – cakes, biscuits, ice cream etc
Bring balance to your health by choosing foods packed with wholesome nutrition and using a guideline to help get you started on a healthy lifestyle without worrying about what to eat.